The French grandfather
My father is an much beloved grandpa, as he was (is) a beloved dad. The grandpa who makes you laugh, who tells endless stories during the long days of trekking, who takes you trout fishing (even if it means destroying his back), who goes to the park or to the market, who plays football, etc.
"While on vacation in a beautiful hotel in India, I remember exchanging a few words with another client, working at the French Consulate in Mumbai. I told her of the recent birth of our grandson, from a French mother and an Indian father, living in India. She replied, "That's great! He will get the best of both cultures!" It was a strong signal for me: at that moment, I realized that the relationship with my future grandson could be different from the one I had had with my three children.
It is true that at that time we were still wondering: how will this cutie fit into our life, what would his relationships with us, grandparents and uncles, be? Would he be rather Indian or French? If only in terms of language, were we going to have to learn Hindi or will he be bilingual or even trilingual?
Regarding food and clothing, how was it be? The idea was starting to grow in my mind: it was clear that we were going to have to adapt to the situation and the little treasure surely too; and each in their own way! It didn't take long to start. In terms of nationality, it was simple; since India doesn't recognize bi-nationality, the parents decided he would have a French passport (for obvious reasons of administrative facilities for his future trips abroad, especially in France).
Regarding language, his mother speaks to him in French or English, his father mainly in English but sometimes a few words in French. So it was up to him to choose his "mother-tongue" and he selected English. And it was not us, grandparents, uncles, even his mother, who was going to make him change his mind! Even his entire kindergarten class took to English because of him. Me, I immediately felt that he was the strongest! I gave in on the first day and spoke to him in English (well, with MY English…) and curiously he adopted me right away. Afterwards, I tried to speak to him in French, but I felt like I was playing a table tennis match all by myself. He would ask me to speak to him in English and anyway he would only answer in English. The most impressive thing is that he understood very well almost everything I said to him in French. In short, he only wanted to speak English. The only thing he accepted, even if reluctantly, was for me to tell him the bed night story in French. But there was no question of compromising, I had to make my contribution to his learning of the French language! I must admit however, that I may have (and more than once) told him the said story in English, even if the book was written in French! But shhhh, don't tell his grandma! She considers that for his own good and future life, her grandson had to speak French as well as English from an early age. "Children have this ability," she says. So she only speaks to him in French, but he answers in English… when he answers! The uncles are divided: one prefers French, the other English.
Regarding eating habits, he has well integrated that there is French cuisine that he likes (melon, cucumber with cream and lemon juice, etc.) alongside Indian cuisine (dal, rice, etc.) . But above all there is a common cuisine: fries or pasta, WITH ketchup! In France, he eats with spoon and fork; in India with the fingers. NO problem switching from one to the other."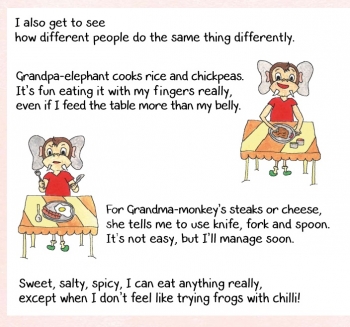 Find more about relationships between grand-parents and multi-cultural children in the book Bandati.