Part 2 – The French grandparents
No doubt my parents would prefer to have us a little closer, but life is like that. We see each other three to four times a year, and each time for quite unique experiences. More than my son's bi-culturality, I think it's the way I raise him that could be destabilizing for them: little authority, a lot of conciliation, letting him express himself – painting an elephant red shocks my Cartesian mother, as well as taking liberty with rules when playing a game! But they have gotten used to it.
I must also add that I have hardly left my son alone with them, simply because I took him along on all my trips. So he has with them a slightly different relationship than the one I had with my grandparents, where I spent weeks with my cousins at their place. But my son adores them, as he adores my brothers.
The French grandmother
My mother is a doting grandma. In addition to the clothes and the multitude of small gifts, she also often organizes workshops for him, as my grandmother, a kindergarten teacher, used to do with me and my cousins. My mother, who I have never seen spending time in DIY activities, paints pebbles and makes planes out of plastic bottles! She sometimes says that she does not do enough for her grand-son, that she is not the grandmother she would like to be, but she has a very special place in my son's heart.
"Our experience of bi-culturality really began when our daughter married our Indian son-in-law in June 2014.
It should be noted that they completely took charge of the organization of their wedding with a deliberate choice to mix Indian tradition and Western tradition. According to the Indian tradition, the wedding took place over three days. The first day was devoted to making contact between families and guests around a session of temporary henna tattoos. On the 2nd day, the day of the celebration according to the Hindu rite, all the women were dressed in sarees (for Western women, the draping of sarees had been done by Indian women and it was certainly a good idea). How elegant we were all, Indians and Europeans, in our saris!!! The bride, for her part, was dressed, according to the tradition, in a red sari, the lucky color in most weddings in Asia. The men wore the dhoti, a kind of Indian sarong. All these colors and dresses made the atmosphere very cheerful: it changes from the white gowns, symbol of virginity in the West, and the three-piece suit of our men, although fortunately the clothing tradition is changing rapidly in the West).
On the wedding day, according to the tradition, the groom-to-be is supposed to go at the venue on the back of an elephant or a horse, but he twisted it by arriving on a motorbike, honking like crazy while his witnesses and friends were dancing. After getting down of his bike, he introduced himself to the mother of the bride who poured a handful of wheat grains on his head to ensure prosperity for the young couple; then to the aunt of the bride who had to turn an incense lamp above his head in order to ward off evil spirits; finally the youngest brother of the bride washed his feet in exchange of a few gold coins (without this perspective, it is quite unlikely my son would have done is "duty", he was not really excited at the idea of cleaning anyone's feet). Once the rite was completed, the young groom became an integral part of his in-laws' family. Regarding the bride, accompanied by her father, she came to join her fiancé under a very colorful canopy. Her future husband gave her a set of yellow gold jewelry, one around her head, one around her neck. There was, like everywhere in the world, a moment of stress when the groom had trouble closing the necklace and almost strangled his bride!
The ceremony was followed by a lunch offered by the in-laws to seal the alliance of the two families. In our case, it was a Kerala lunch served in huge banana leaves, filled with a lot of small dishes. To our greatest satisfaction (or relief), they were not too spicy; on the other hand, eating with our fingers was a real experience: isn't it very chic for a wedding meal?!
On the 3rd day, the ceremony took place according to Western tradition: the bride was dressed in white, the groom wore a suit with bow tie, exchange of vows and wedding rings. Then, under a tropical rain (we were in Goa, in June, in the heart of the monsoon), the music started to ignite the dance floor. There, it was not very different compared to our evening parties: it's the same youth, the same music, except maybe for the Bollywood choreography prepared by the Indian and French friends of the bride...
Our experience of bi-culturality took another dimension after the birth of our grandson. In India, in the first two or three months, the newborns do not leave the house. But in our case, in perfect agreement with our son-in-law, we ignored the tradition: two weeks after he was born, the baby and the whole family flew to Goa for Christmas holidays. We were comfortably lodged in a luxury hotel overlooking the beach. Sitting by the pool, I had the responsibility of watching over our grandson while his parents enjoyed a swim in the sea. We had carefully protected our sunbed under a parasol. The questioning gaze of the lady staff passing near us somewhat destabilized me. They were indeed really surprised to hear a newborn crying out for his mother's breast on a beach. But in the end, I convinced myself that it was good for our grandson to be able to take advantage of the iodized air of the seaside. Especially since this stay was nothing short of miraculous: he was not gaining weight until then, the pediatrician was worried and wanted him to drink formula but it took only a few days in Goa for breastfeeding to be set up as it should be!
Our grandson, like all the children in the world, grew up very quickly. He is now used to seeing us in India when we visit them. On these occasions, he loves introducing us to his classmates, his teachers and the Director of his school. During his visits to France, we noticed that he very fast found his landmarks: in the taxi that brings him from the airport, he immediately recognizes the street in which we live; he also knows very well the path that leads him to the nearest park. For meals, while in India, setting the table is childishly simple (you eat with your fingers so no cutlery is needed), in France he is very happy to be able to show us that he knows how to use his knife and fork correctly. To help us set the table, he has even learned to arrange the cutlery according to French etiquette and it seems to amuse him.
Although he understands French perfectly well, he struggles to speak it except to surprisingly say a few French words for which he does not know the English translation such as "buanderie" (laundry room) and "brouette" (wheelbarrow). It has always been very touching to hear him say these words when they are not very frequent words. Moreover, he loves when his grandfather speaks French to him with a Saint-Etienne accent; suddenly, at six years old, he started to really speak French by imitating this accent which makes him laugh.
Like all children, he is very mischievous. I made the choice to speak to him systematically in French (his mother speaks to him in French but also in English when required to go fast; on the other hand, when I feel he is tired, I agree to speak to him in English as well as I can!!! And then, he doesn't hesitate to correct my mistakes in vocabulary and/or pronunciation: it's a good exercise in humility and an excellent way to improve my English.
We therefore live rather well the bi-culturality of our daughter and our son-in-law. Thanks to Skype and now WhatsApp, it is relatively easy to manage the distance: we have at least two to three contacts per week. Our grandson, since he was five years old, sometimes even exchanges directly with us on WhatsApp with his parents' phones.
To conclude, I would like to share a lovely remark of our son-in-law; when he found the black doll that I had brought back from the United States to our daughter for her seventh birthday: "Now I understand better how you agreed to welcome a dark-skinned son-in-law!"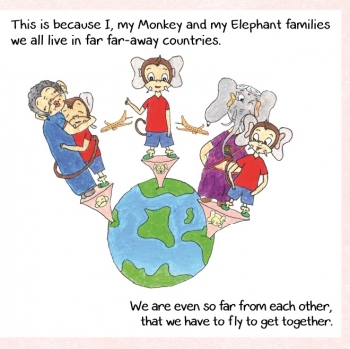 Find more about relationships between grand-parents and multi-cultural children in the book Bandati.